Available Adult Siberian

Elenka
This pretty girl needs a calm, quiet, predictable home
without other cats or small children.

She is not necessarily suitable for a home with any other pets,
and she does not have the makings of a "family cat".

Female purebred Siberian cat, 3 yrs old, imported from Russia last year.
She is a tortie point, with a long slick coat.
Her coat has body, not light, fluffy.
She will be spayed.
Elenka has a 5 generation pedigree, her
parents were both Champions, shown in Russia.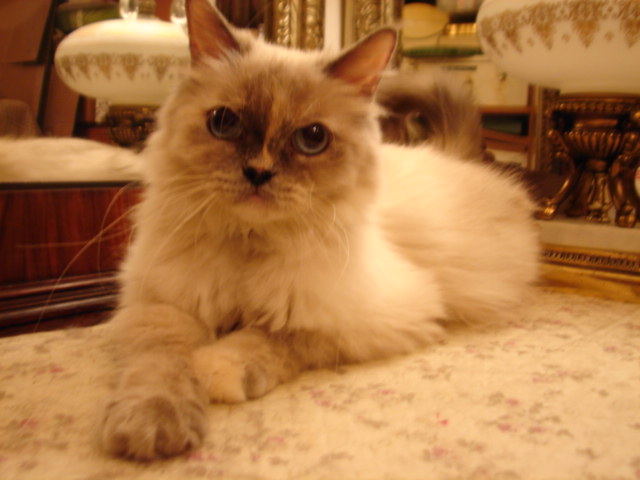 Elenka is of good size, with medium boning.
She has big, very beautiful, blue eyes.
She is very quiet, she purrs readily, and receives affection.
She is available for $800,
for a local placement only, with return priveledges.
Elenka has never had the opportunity to be a special pet to someone.
She has had a life amongst other cats.
I suspect that she would really 'bloom' in a setting
where she's individual and treasured.
She loves to be told how pretty she is,
and to know that she's loved.

She uses the litter box, and she self-monitors on dry food.
She seems quite content in a room or small space,
she actually seems quite content all the time.
She never complains, and she is well behaved.
She has no 'little stinker' in her, she does not look for
things to get into, or do things she know's she's
not supposed to.

In a low-key predictable home, I think she would
build trust and do extremely well.

If you are interested in Elenka, please call me to talk with me about
her particular characteristics. ---Alea