Available Adult Siberian

This quiet female needs someone willing to spend time
and attention to modify her shyness.
She is not necessarily suitable for a home with other cats.

Petite female purebred Siberian cat, 2 1/2 yrs old, imported from Russia earlier this year.
She is a very light red-point, with a soft coat, not slick / silky.
She was vaccinated 14 months ago, and she is microchipped . She is not spayed.
She has a 5 generation pedigree, her
parents were both Champions, shown in Russia.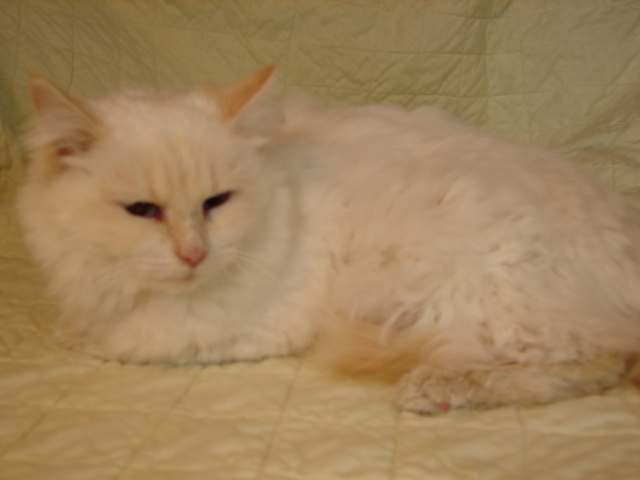 This girl is smaller than the breed standard.
She is available for $600,
for a local placement, only.
This pretty girl is extremely quiet, compliant, and shy.
When it's her and I, in the car, in a quiet room, etc.,
she's cuddly and affectionate. However, I can expect her to run from me unless
we're close together, like in the car. She is easy to bathe, blow dry, etc.
I can move her, groom her, handle her, she does not resist or resent me.
The bigger the space she's in, the more fear she has, though.
When the fear comes, she forgets she knows me.

She has it in her to be a very good kitty, but it could take time, attention, and patience to get her there. Doing so would likely working with her to develop trust, continually challenging her and drawing her out, to bring out affection and a desire for attention from her, so that she wants to connect,
and can overcome fear to do so.
In an environment with other cats, the individualized attention that she needs can prove difficult. She is able to 'hide' amongst other cats, and she may even negatively influence them.

She does not currently seem to need human contact,
although she enjoys it when affection is given.
The possibility exists that in a situation where it's just her and her owner, that she would come around and be just fine in a short time.
It's safe to say that she's never had that opportunity.
She is not at all needy (she could stand to be a little more so...).
She doesn't seem to need the company of other cats,
although she is polite and seemingly non-aggressive to other cats,
yet I'm not sure if she backs down if aggressed on.
I do not recommend her as an addition to a home with other cats.

She always uses the litter box, and she self-monitors on dry food.
She seems quite content in a room or small space,
she actually seems quite content all the time.
She never complains, she just gets scared.